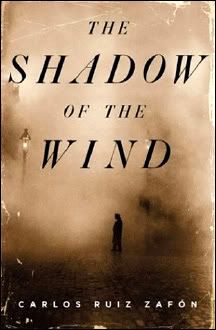 The Shadow of the Wind
, Carlos Ruiz Zafón (translated by Lucia Graves), 2001
From the Dust Jacket
Barcelona, 1945 - just after the war, a great world city lies in shadow, nursing its wounds, and a boy named Daniel awakes on his eleventh birthday to find that he can no longer remember his mother's face. To console his only child, Daniel's widowed father, an antiquarian book dealer, initiates him into the secret of the Cemetery of Forgotten Books, a library tended by Barcelona's guild of rare-book dealers as a repository for books forgotten by the world, waiting for someone who will care about them again. Daniel's father coaxes him to choose a volume from the spiraling labyrinth of shelves, one that, it is said, will have a special meaning for him. And Daniel so loves the novel he selects,
The Shadow of the Wind
by one Julian Carax, that he sets out to find the rest of Carax's work. To his shock, he discovers that someone has been systematically destroying every copy of every book this author has written. In fact, he may have the last one in existence. Before Daniel knows it his seemingly innocent quest has opened a door into one of Barcelona's darkest secrets, an epic story of murder, magic, madness and doomed love. And before long he realizes that if he doesn't find out the truth about Julian Carax, he and those closest to him will suffer horribly.
My Review
"Every book has a soul... In the shop we buy and sell them, but in truth books have no owner."
-- Daniel's father
Carlos Ruiz Zafón has written four novels, all for children.
The Shadow of the Wind
is his first "adult" novel, and has proven to be a stunning debut. Originally published in Zafón's native Spanish, the novel was translated by Lucia Graves. Few people consider a translator as having any part of the creative process, but it truly is an art form. Graves seamlessly works in cultural and regional references, as well as Spanish terms, accents and dialogues into the story, all the while staying true to Zafón's narrative style.
The characters in Zafón's story are delightfully varied and each as captivating as the last. There are no clear heroes in the story, for even Daniel (the story's narrator and main protagonist) falls short on several occasions, makes the wrong decision, or -- worst of all -- no decision at all. Zafón's sharp wit and unique sense of humor is a refreshing antidote to the darker moments of the novel, of which there seem to be no end as the story unfolds.
The Shadow of the Wind
transcends genre. It is a coming-of age story, a political story, an adventure story, a ghost story, and, of course, a love story. It's an epic, a comedy, a tragedy, a mystery. It is, as Entertainment Weekly so aptly puts it, "a love letter to literature."
A summary of the novel's plot just doesn't cut it. Take away the plot summary, the author biography, and the descriptions of narrative style. Take away everything, and leave just a single sentence -- that will be enough.
This is a book for people who love books.
Current Mood:
cheerful
Current Music: "Cherub Rock," by Smashing Pumpkins