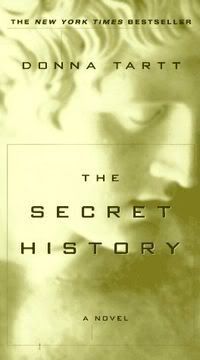 The Secret History
, Donna Tartt, 1992
From the dust jacket:
Storytelling in the grand manner,
The Secret History
is a debut remarkable for its hypnotic erudition and acute psychological suspense, and for the richness of its emotions, ideas and language.
These are the confessions, years afterward, of a young man who found at a small Vermont college the life of privilege and intellect he'd long coveted--and rarely has the glorious experience of youth infatuated with knowledge and with itself been so achingly realized. Then, amazed, Richard Papen is drawn into the ultimate inner circle: five students, worldly and self-assured, selected by a charismatic classics professor to participate in the search for truth and beauty. Together they study the mysteries of ancient Greek culture and spend long weekends at an old country house, reading, boating, basking in an Indian summer that stretches late into autumn.
Mesmerized by his new comrades, Richard is unaware of the crime which they have committed in his dreamy, unwitting presence. But once taken into their confidence, he and the others slowly and inevitably begin to believe in the necessity of murdering the one classmate and friend who might betray both their secret and their future.
Hugely ambitious and compulsively readable, this is a chronicle of deception and complicity, of Dionysian abandon, of innocence corrupted by self-love and moral arrogance; and, finally, it is a story of guilt and responsibility. An astonishing achievement by any standard,
The Secret History
immediately establishes Donna Tartt as a supremely gifted novelist.
My review:
If you like mysteries, if you like Ancient Greece, if you like tragedies, or if you just like a damn good book,
The Secret History
is amazing. It's not the most uplifting book in the world, since it is a tragedy. It left me with the most beautiful feeling of remorse and regret, and it does an excellent job of touching on several elements of Greek Tragedy (catharsis and hubris, not to mention the closest I've ever seen anyone come to describing Dionysiac frenzy). I don't have sufficient words to describe this book, but I cannot recommend it highly enough.