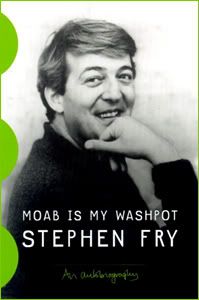 Moab is My Washpot
, Stephen Fry, 1999
Book Reviews
"Stephen Fry is one of the great originals... This autobiography of his first twenty years is a pleasure to read, mixing outrageous acts with sensible opinions in bewildering confusion... That so much outward charm, self-awareness and intellect should exist alongside behaviour that threatened to ruin the lives of innocent victims, noble parents and Fry himself, gives the book a tragic grandeur and lifts it to classic status." - Financial Times
"A remarkable, perhaps even unique, exercise in autobiography... that aroma of authenticity that is the point of all great autobiographies; of which this, I rather think, is one." - Evening Standard
"He writes superbly about his family, about his homosexuality, about the agonies of childhood... some of his bursts of simile take the breath away... his most satisfying and appealing book so far." - Observer
About the Author
As well as being the bestselling author of four novels,
The Stars' Tennis Balls
,
Making History
,
The Hippopotamus
, and
The Liar
, and the first volume of his autobiography,
Moab is My Washpot
, Fry has played Peter in
Peter's Friends
, Wilde in the film
Wilde
, Jeeves in the television series
Jeeves & Wooster
and (a closely guarded show-business secret, this) Laurie in the television series
A Bit of Fry & Laurie
.
My Review
My favorite book by one of my favorite people ♥ Stephen Fry is an honest-to-god
wizard
when it comes to words. It's strange (or perhaps not so strange), but even though I've always preferred fiction to non-fiction, my favorite written work by Fry is this, his autobiography. Maybe it's because so much of his fiction is based on his real life (he himself admits that
The Liar
is almost entirely lifted from his own life), or maybe it's because life sometimes ends up being more interesting than fiction. Whatever the reason,
Moab is My Washpot
is a book I cannot recommend enough, even for those (like myself) who steer clear of autobiographies. What are they really besides an excuse for the author to list their credentials, or beg for their readers' sympathy and admiration? The answer is found in this book. Fry has written an autobiography that can touch any and everyone, regardless of whether or not they know his name.
If you need further convincing, read
this review
, by a far more eloquent reader than yours truly.
It should be noted that I, strictly speaking, did not
read
this book... I listened to it. But with Stephen Fry narrating, which is
the
best way to go about it. I've made a complete fool of myself several times by cracking up in public places. The part where he rants about his complete lack of musical talent is particularly funny. Nobody can cuss quite like Stephen Fry XD
Current Mood:
blah